Search Engine Optimization in 2022
On-Page SEO (with Keywords)
Technical SEO (Under the Hood of Search Engine Optimization)
Search Engine Optimization in 2022
Any marketer knows your digital real estate is only as valuable as it is visible. In an internet landscape with thousands of options available from every SERP, how do you connect with the people who want what you have to offer?
Search Engine Optimization or SEO, is the first step in digital marketing for a business of any size. If you want your ideal customer or client to find your website via Google and other search engines, then SEO isn't something you can forgo.
What does it mean to be search engine optimized? Let's unpack.
On-Page SEO (with Keywords)
SEO is divided into three main categories: On-page optimizations, off-page SEO, and technical SEO. In this article, we'll focus on on-page and technical SEO since off-page deserves much more attention.
On-page SEO refers to the content on your website. That includes your content structure, content hierarchy, user experience (UX), image alt-text, internal links, and external links.
Search engines like Google and Bing scan all the text your site contains in order to determine what you are about and who is trying to find you. This information is used to generate a Search Engine Results Page (SERP) when a user enters a query.
Not all words are created equal! If you are an e-commerce site that specializes in pet supplies, some words on your page are more important than others! Google algorithm does its best to filter out "contentless" words; the, and, at. Instead, it focuses on the descriptive words; dog, cat, toy, food.
Those contentful words are your keywords. By examining what keywords your content contains and how often they are used, Google determines if your site is a good fit to show a user. This is called keyword density or keyword frequency.
Of course, higher isn't always better. Would you want to shop with an E-commerce store that contained the word "dog" 120 times and nothing else?
READY TO ATTRACT AND CONVERT MORE LEADS TO YOUR WEBSITE?
If you're serious about your online business, you need SEO. I'm here to help. Book a call with me today!
Technical SEO (Under the Hood of Search Engine Optimization)
SEO is more than just your content. Google Analytics ranks your site based on key metrics called core web vitals. These core web vitals are used to measure how functional your website is.
A site with great content that has broken links, few updates and loads poorly is not user friendly. To make sure Google is displaying your content front and center, check your site against Google's gold standards for user experience.
It isn't surprising that speed is the most important metric of technical SEO. But what does speed mean for your site? Google measures your speed according to 4 measurements.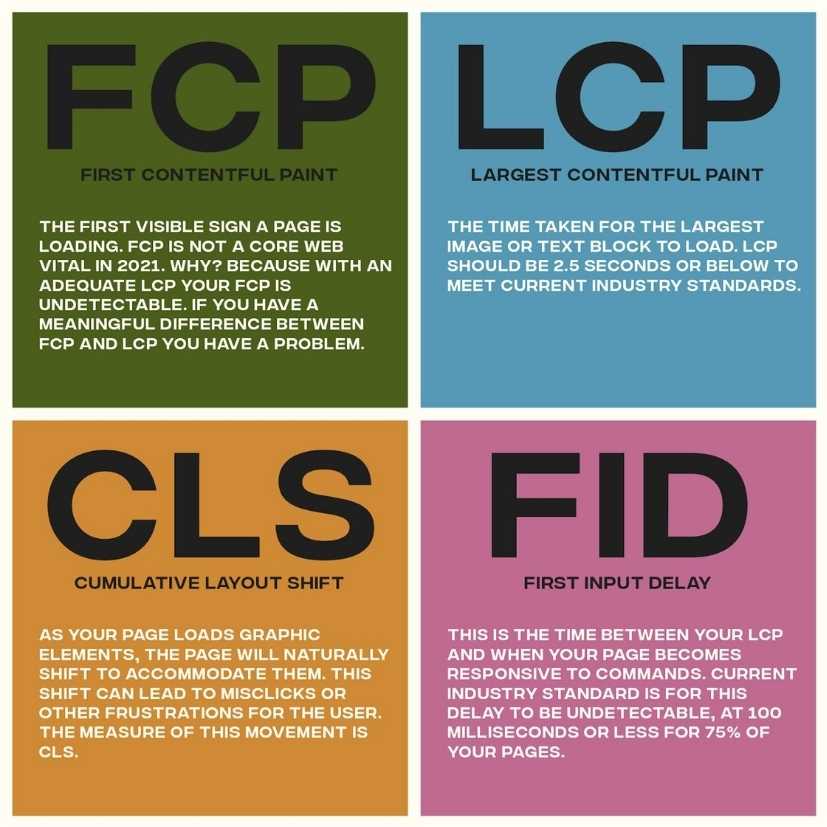 Core Web Vitals
Domain authority is based on more than just speed. As of the May 2021 update to Google Analytics, there are 2 other key factors that go into determining SERP visibility. 
Safe Browsing
As you may have noticed, most sites you visit use HTPPS as their protocol. This is a secure protocol and the current minimum requirement for a page to be considered safe. It goes without saying that your pages should be free of malware, intrusive pop-ups or unauthorized data catchers. The newest addition to your safe site checklist is to use HTTPS.
Mobile Friendliness
Most web users browse as much on their phones, if not more than on a desktop. Why then, are so many sites not mobile optimized? Google is putting the mobile user experience first this year, and that means you should be too. Not sure if your site is mobile optimized? Get your answer from the horse's mouth with Google Mobile Optimization Checker.
This free tool will let you know if your site is up to grade, and give you actionable advice if it isn't.
Is SEO Marketing?
Now that you better understand SEO and domain authority, you might be wondering, "Is this marketing?" The simple answer is, yes.
The more in-depth answer is, SEO is a set of best practices for your website. It is by far, the most important and most effective form of marketing that you could ever invest in. All digital marketing campaigns should be launched with SEO in mind. You can't sell to your market if you aren't visible to your market. Everything from your text, domain choice, graphics and layouts are all factored in to your placement on a Google and other SERPs.
If you are unsure about your marketing and what it means for your digital presence, chances are you need an SEO marketing consultant who can help you implement SEO for your business yourself. Or a better option would be to hire a marketing agency that specializes in SEO to handle everything for you. When looking for that consultant, make sure they offer you a service that keeps SEO best practices front and center.



READY TO ATTRACT AND CONVERT MORE LEADS TO YOUR WEBSITE?
If you're serious about your online business, you need SEO. I'm here to help. Book a call with me today!